"Glass House of Dreams" In The News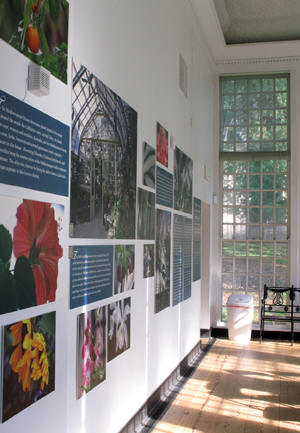 Currently on Display...
Glass House of Dreams: Baltimore's Victorian Palace in the Park
Exhibit at The Orangery of the Historic Hampton House
See the beautiful Glass House of Dreams exhibit in this larger-than-life display. A future book signing and lecture on historic glass houses is being planned now by the National Park Service at Hampton National Historic Site. Check www.historichampton.org for dates.
Highlights of Spring 2012...
• Chaired Spring Silent Auction, District IV Federated Garden Clubs of Maryland
• Chaired Hampton Arts Initiative inaugural event, April 20th. Over 300 in attendance!
• Lectured and signed books at Mount Royal Garden Club, Evergreen Garden Club of Harford County, DAR and the Rotary Club of Baltimore.
Glass House of Dreams was featured in spring issue of Washington Gardener Magazine. A dream come true. I feel very fortunate to have had the opportunity to work with so many wonderful organizations that are committed to such amazing work. I share their passion for history, preservation, and of course, gardening! Thank you again for all the encouragement and support.
Sincerely, Margaret "Peggy" Haviland Stansbury
---
STYLE MAGAZINE, By Kathy Hudson
..."GLASS DREAMER: Margaret Stansbury championed the renovation of the Conservatory in Druid Hill Park, then wrote a book about it."
TANGLEWOOD CONSERVATORIES BLOG
..."The landmark custom greenhouse conservatory in Druid Hill Park in Baltimore is the subject of a new book. "Glass House of Dreams; Baltimore's Victorian Glass Palace In The Park" by Margaret Haviland Stansbury and photographer David Simpson was just released by Palm House Publishing.."
BALTIMORE SUN, By Susan Reimer
..."Druid Hill Park Conservatory greenhouse is a whimsical collection of glass, curved steel and light."
BALTIMORE SUN, By Fred Rasmussen
..."Glass House of Dreams" is an extraordinary pictorial history of Baltimore's Conservatory in Druid Hill Park, extolling the beauty of what might be the second oldest such structure in the United States."